Still did you put your Christmas Decorations? Quiet, you're on time, and to help a little to decorate your home for these days to come let me give you some thoughts that I hope will serve to dress up your home in a special way and very nice. You can opt for decoration, say, always, with tree, balls, crib, tinsel … But if you want to give a different turn and do something different do not miss anything of what comes next.
The door and the entrance
If you want to provide a nice welcome your guests you can start decorating the entrance door of your house. At the door as usual is putting a crown, although there are more alternatives. For example, you can put a cloth bag or paper with a candle inside (not always protected to ignite the bag), put an original Santa Claus, a snowman or a pineapple. For input, it is very beautiful composition with candles so that when you enter the first thing you see is a nice warm lighting. No need nothing more…
The details
As always they say, in the details is the difference. So sometimes it is not necessary to fill the house of tinsel, thousands of balls and ornaments everywhere. If you like well, of course. But if you just want to give a subtle hint to remember that we are at Christmas, but not too ostentatious, you can opt for ornaments strategically placed, so that we look at some important dates but neither Christmas. These three ideas I liked a lot, look at the right, with a glass jar and a candy simple and effective decoration, do not you think?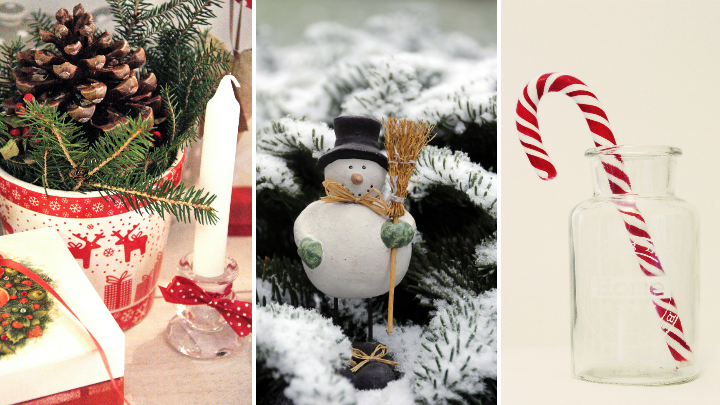 Fireplace
Lucky are those who have a fireplace in your home! It is an element that contributes to design a Christmas decor very cool, with many possibilities. Of course, hanging on her socks for Their Majesties The Magi to deposit their gifts, and if you're not going to turn you put inside some candles and some dried pineapples, to create a very soft and pleasant light for the living room .It sets out some big cushions so you can sit on them to open presents.
Christmas tree
A Christmas tree of all life can be embellished with details that go beyond the typical balls. Wooden heart-shaped, star, with snowmen or your favorite cartoon series … There are many alternatives and some really fun. But if not want a traditional fir can create original and different tree with wooden logs placed on the wall in a triangle, for example, or with the craft that I showed you the other day.
Nordic Christmas
But if there is a Christmas decoration that I like above all is the Nordic style. I find it very elegant and invite calm, the colors away from using glitter and glitz. Details of white and gray that evoke a winter of those who enjoy warm indoors, under a huge blanket and drinking hot chocolate…