Christmas is just around the corner, so it's time you start thinking about decorating your home for this time of year as expected by most. Moreover, if you want, you can start placing ornaments in every corner of your home. Yes, we recommend that you first of all think well what Christmas style want prime in your house: traditional, modern, nordic, natural, classic … Once you have it clear, also we suggest you decide what the protagonists colors will be. The best option is to opt for a decoration bicolor.
There are many color combinations that you can choose when decorating your home for Christmas, but today we want to tell you about one of the most classic. We are referring to the white-red pair, which can give great results, as you will see yourself having a look at the images. Today we give you some tips and ideas to use these colors in the Christmas decorations in your home. Can you come with us?
A very attractive contrast
For many years now, the Christmas decorations in white and red is trend, something we do not strange at all, since the contrast created by the combination of both colors is really attractive. In addition, both colors are typical of this time of year. What you should keep in mind is that while white is associated with purity and visually expands space, red is the color of passion. Of course, these two colors blend perfectly together.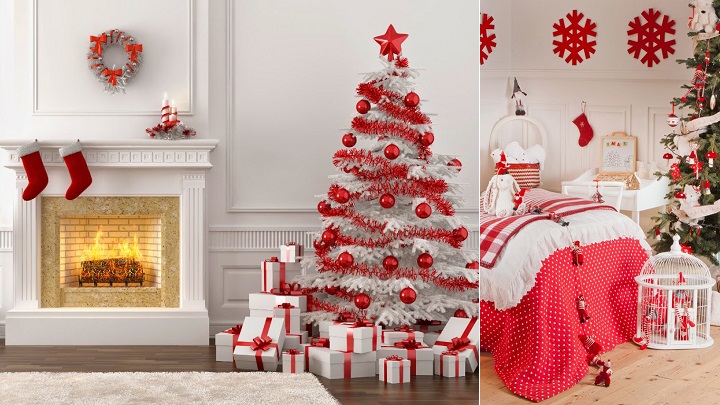 Ideal for houses predominantly white
If your house white is the predominant color, an excellent idea ahead of Christmas ornaments it is to bet on color red. In fact, in this case you will not have to invest in white decorations, as this color will be present on walls and furniture pieces. However, if other hues predominate in your home, you must choose decorative elements in both colors.
A white tree
An excellent idea to achieve a red and white Christmas is to buy a white tree and decorate it with ornaments dyed more passionate color. The good news is that trees in this vein have become so popular that you can get them easily and prices cheap. Moreover, some stores sell already decorated. If your tree is classic, you can fill it with artificial snow and then add red ornaments. Of course, it is also an excellent idea to fill the soil surrounding the tree packages wrapped in paper and bows of these beautiful colors. And although they are less common, you can also find red trees.
A table in white and red
If this Christmas are going to arrange meals and family dinners at home, do not hesitate to decorate the table in white and red. For example, you can cover the table with a tablecloth red and white put place mats. If you're going to do without the place mats, you can choose directly by a blank crockery, of course, can have red accents. You can also do the reverse, that is, choose a white tablecloth and bet on crockery, cutlery and glassware red. Of course, the market will find all kinds of paper napkins in white and red. Many of them, like tablecloths, have typical Christmas drawings: reindeer, trees, snowflakes ..