Industrial, sophisticated and luxurious aesthetic golden sparkles, a commitment to natural … Definitely, 2016 is full of surprises in interior design. Materials, designs and styles to suit every taste and every corner of the house.
In RealOrigin we know and we want to advance you the latest trends in furniture 2016. From elegant proposals to the simplest and most minimalist pieces. You can start making room in the house!
Furniture with gold
If you're a regular reader of RealOrigin, surely you remember the trends in bathroom decoration 2016. In this article we talked about the sophisticated and bright metallic sparkles that will be featured during the upcoming season. The brass, gold and copper also be present in our furniture, so do not lose sight.
The furniture, from dressers to auxiliary as coffee tables, will be protagonists of our decor thanks to bright flashes of gold. Strokes that put sophisticated touch to our decor and luxurious.
These metalized surfaces combined with another trend that also will feature prominently in the decor of 2016. Marble furniture marble gaining ground in interior design and a well-deserved niche in our spaces. A material which, incidentally, matches perfectly with golden highlights.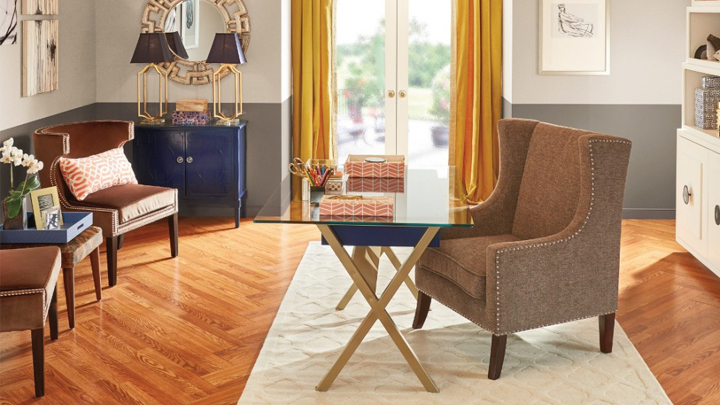 Metal and industrial aesthetics
While industrial aesthetic lovers can not miss the furniture and black colored metal. The tendency to recover old factories and industrial workshops also brings us sober, simple and aesthetic furniture factory where metal and dark colors play a leading role.
Full-color upholstery
The touch of color is in charge of the furniture upholstered in rich colors like electric blue and olive green worn by environments with eclectic and bohemian air.
Noble materials and rustic air
As far as materials are concerned, natural furniture become as solid wood. Fine materials which bring elegance and distinction to the environments and give way to one of the protagonists of the 2016 styles: rustic. Wood furniture, untreated, and a design between rustic and chic bring us the flavors of the authentic.
Parts for XL version
They also become the wood furniture with metal reminiscent of the traditional parts of the old factories. Environments where the furniture also succeeds in XL version, such as dining tables, windows and mirrors the foot maxi.
Minimalism
But leaving aside these tendencies who wear our environments full of personality, some interior designers also opt for more discrete pieces and minimalist. Naturally, we are referring to Scandinavian-style furniture, simple lines and white color, looking vanguard decor.
Geometric Designs
The most cosmopolitan and avant-garde should not miss the furniture with geometric designs and shapes of the most innovative, pieces that fit into contemporary and minimalist spaces for a household in the forefront of the latest trends.
Smart Furniture
And how could it be otherwise, trends in furniture designs bet for 2016 also increasingly technological. Convertible, smart, functional, innovative and practical furniture incorporating outlets, Internet access and even allow us to charge our cell phone.
Live ecology!
As I promised, furniture trends 2016 suit every taste and every household. For cosmopolitan, classic and techies and, of course, a special mention also to furniture made ​​from recycled materials and sustainable designs that bring us the greenest of interior decorating trends.