How to make a bright flamingo
In prints, in figures, lamps … Flamingos bring joy and color to our decor and today I want to show how one can enter through a creation that you do with your own hands. It is a bright flamingo that will look great in a special corner of your home, leaning on a dresser, for example, on a table or on top of a shelf. You want to know how to make it ? From the blog Brit + Co we teach you and I explain below.
The materials you need
Thus, to make this tropical bird special will need:
A sheet of foam board.
Spray paint (primer and paint).
A thick paper scrap.
A string of lights.
Pencil.
Rule.
Scissors.
Gun silicone.
Cuter.
Screwdriver.
DIY to make a bright flamenco, step by step
First, in a large piece of paper (about 45 x 60 centimeters) draws the outline of flamenco and cut with scissors. Then trace the cardboard sheet silhouette helping pen this template you just created and the cutter cuts the contour. If you see that the edges have not been very smooth you can sand them a little.
Holes for lights
Now, with the rule, measures the distance you want to leave between the lights. Here is each about 5 centimeters. On the board we have with the silhouette of flamenco draws the points where you want the lights are inserted and drilled using the screwdriver in those places that you have marked.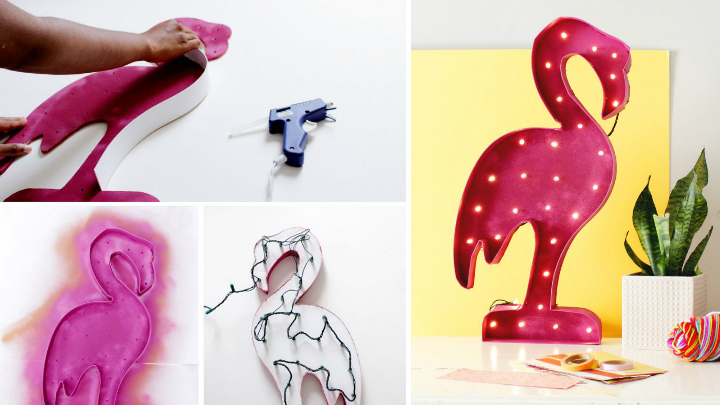 The paper strip
Then cut the thick paper plate. Here, more or less, it is about 4 centimeters wide. With hot glue gun sticks this paper strip bordering the figure of flamenco.
The painting
Now we go to a place that is well ventilated and which can comfortably without smearing paint anything. First apply the spray primer following the manufacturer 's instructions regarding drying time. Then apply the pink to give life to this animal so much fun. Must give one or more layers according consider that has been color. You should not skip the step of primer because the foam or foam board material you can melt in direct contact with the paint.
Placing lights
When the paint is dry, enter your string of lights through the holes you've done before and already have your bright flamingo to decorate your home.
Bonus track: Snowball
As usual in this section, I give you an extra craft for you to create a fully Flemish decor. In addition to the garland of lights, I propose to make a very cool snowball decorated with a flamingo, which is not a winter animal , but there is grace …
Blog Handfie tell us how. You will need to:
Scissors
Glue gun.
A glass jar
Cord (optional).
Snowmaking
A flamingo and palm trees.
Step by Step
If you want to give a more rustic feel you can put the rope around or covering the entire can lid, but if you want you can leave as is. On the inside of the jar tape paste flamenco and palm trees and artificial snow throws. It turns the jar and place it wherever you like, is a very original way to make an original and different Christmas decorations, bringing this tropical bird to a snowy landscape … Look at the result, it is very nice?