Trends in the decoration of salons 2017
Are you thinking of renovating your living room? Have you moved and have to fully condition this important stay in your home? If you have answered yes to any of these two questions, you should keep in mind that when decorating the room you have to think about many factors (furniture, lighting, colors, decorative objects …), although all the decisions you make should go in one direction: get a warm, cozy, comfortable and functional space.
To lend a hand, today we talk about trends in decorating halls for 2017. If you know not only know what to do to have a current room, but you can get an idea of what you'll find in stores decoration And furniture. Would you like to join us?
Open lounges
The first thing we want to comment on is that in 2017 we will continue taking the open halls to the dining room, the garden, the hallway and, above all, the kitchen. This is an ideal solution for homes with few meters option, although it will provide an extra spaciousness and brightness to any home. To top it off, communication, vibrations and light can flow freely in the open halls.
Styles
One of the first things you have to do when decorating your living room is to define the style you prefer in the room, although it is true that you can choose to mix different types of decoration, or what is the same, for the eclectic decoration, which also will be in fashion this year. Of course, we have to say that the style that will have more prominence in the halls will be the Nordic, who likes by its luminosity and its warmth. Of course, this year also can fill your room elements vintage, as long as the combine with other more modern pieces. In addition, you should know that, like last year, also style salons will be rustic, but with modern touches.
Colors
As for colors, we do not find many differences compared to 2016. In fact, this year will continue to predominate neutral tones, and especially white and gray, which in salons combine perfectly. In addition, it will also take the combination white-wood. We must also highlight the blues, yellows and terra cotta. Special mention should Greenery, the color of the year according to Pantone, the highest authority in the world of color. This tone that evokes the green leaves of nature conveys freshness, positivity and personality, making it ideal for spring and summer. You can use it in cushions, rugs, curtains, plants, decorative objects …
Materials
Another factor that you will have to take into account when decorating your living room are the materials chosen. For the floor, wood will continue to predominate, as will furniture. Of course, you must keep in mind that in the market it is possible to find synthetic woods that offer a very natural look. Another material that will take center stage will be the cork, which can be present in both pieces of furniture and decorative objects. Also, you should know that metals will also be fashionable, especially gold and copper.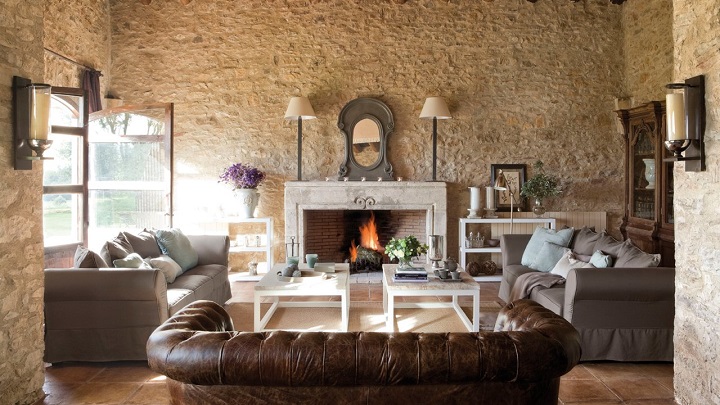 Sofas
We want to finish talking about trends in sofas, although the main thing when choosing this piece of furniture is that it is comfortable and functional. This year models are carried in blue and gray, although it is always a safe option to choose a neutral color. Moreover, you should keep in mind that upholstered velvet trend is also the tweed. In terms of styles, the Nordic models, the classics and the Chesterfields will play a major role.