Trends in youth rooms 2017
The environment in which our children grow is very important for their education. In addition to feeling comfortable with the style, youth rooms must be practical, comfortable and, above all, inspiring.
Today we want to inspire you to decorate the room of a young teenager and that is why we have selected some ideas to help you decorate a bedroom inspired by the trends of 2017. For those looking for functionality, for lovers of decoration and design … For everyone!
Practical bedrooms and optimized spaces
If you are looking for practicality and want to take advantage until the last meter available, nothing better to opt for a functional bedroom. Choose a structure with two levels: at the upper bed is located and lower the desktop is. This type of structures with two floors is highly recommended for small rooms with high ceilings.
This type of furniture we can find for sale in many shops, such as Ikea, or opt for a custom structure that suits the needs and characteristics of the room.
For modern children: Look scandi
The cool kids and parents will enjoy a modern room scandi style. It is the quintessential decorative tendency and, of course, should not be missing in the bedroom of the youngest.
In this decoration highlights the light and natural design, pure lines. It is incredibly practical and versatile pieces, which we can give dual – use and adapt to the different stages of the life of our children.
As for colors in environments Nordic style light, neutral colors like white, gray and earth tones predominate. To rejuvenate the look scandi and adapt to children, we can choose pastel colors.
A bedroom of industrial aesthetics
Another style that prevails among adults and could not miss among young people is the industrial aesthetic. We are inspired by the furniture factory to decorate these rooms, in which no shortage of wooden furniture and metal with wheels and vintage look.
Flexo metal and articulated arm lamps and lamp bulb in sight, ancient maps, metal baskets and vintage-inspired accessories reminiscent of the charm of those old factories rehabilitated to give them a new use. And if you look at the colors, dominated by dark colors that give character to the decor.
Fashion colors in 2017
Another trend that we should not overlook is the colors fashionable decoration for spring 2017, according to the Pantone Institute. Nature gives us fresh and vitamin colors that will star next season.
Triumphs blue in different versions: a blue relaxing inspired by the pristine waters of tropical destinations and a more intense blue that gives strength and energy to the youth rooms.
Nor should we lose sight of the green that evokes the desire to connect with nature. Ideal for those seeking a relaxing and natural decoration, to teach children the importance of a sustainable lifestyle.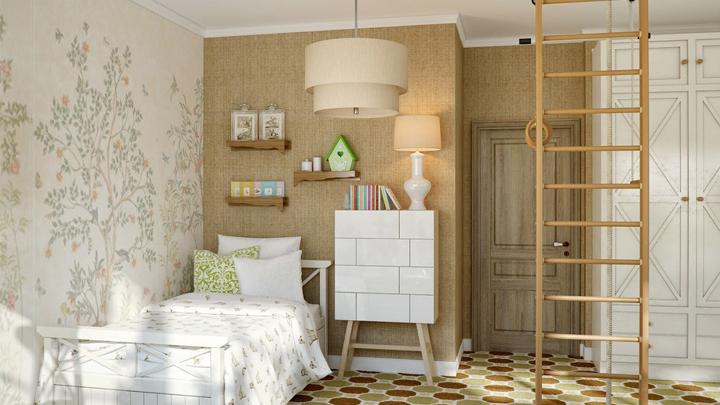 Always natural
If you choose a natural decoration, do not forget to decorate with furniture in noble and light woods. Also accompanied with wicker baskets or rattan, jute carpets, cotton textiles, wool of alpaca or linen and botanical illustrations, which are another must-have decoration adults who makes the leap to youth bedroom.