Earning privacy on your terrace or garden
If your house has a garden or terrace, I am convinced that you are spending a few days of incredible summer. That place outdoors becomes a perfect place to enjoy moments of relaxation and leisure abroad, always with certain amount of privacy that we all like to preserve.
To achieve this today I bring several ideas to create systems concealment that will protect your outdoor area prying eyes and will make a very decorative way. In this way, you'll find comfortable on your balcony or terrace garden and the privacy of this space will be more than assured.
Hurdles
If you want to give a rustic air to the exterior of your home, you can put a few hurdles in the form of rods wicker, bamboo or heather. You get to decorate your terrace and garden hidden while this space and you provide more privacy. You can add a plant to give an extra touch to the decor.
Wooden fences
They are hardier than Hurdles and will last longer. There are many options, you can place the crossbars in vertical format and also horizontally, creating a perfect concealment for your terrace or garden. You can choose the width and color of the wood, customizing to your liking this space. Even you can paint a different color than the wood itself.
Pine bark
Pine bark is a natural material that is increasingly used in systems concealment. It usually occurs in wire stitched thread sheets, is durable and has a rustic look that will give a very special touch your terrace or garden.
Wood panels
Wood is one of the coziest materials available and if you choose to get it on your terrace create a pleasant atmosphere to enjoy your time outdoors. One possibility for your protective fences is to install panels of this material, considering that should pay attention to maintenance to avoid spoilage.
Concealment plant
Another alternative is to opt for vegetable hedges, very decorative and perfect for designing a beautiful natural environment. Of course, keep in mind that you have to keep and care to keep them in perfect condition. Boxwood, for example, has evergreen and can include high planters to gain height and deter prying eyes.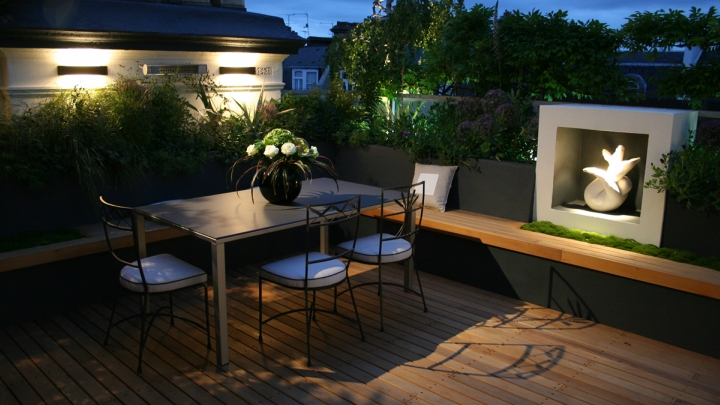 Ivy
Ivy plant is another example of concealment, perfect for your garden. Make holes in the ground and includes substrate to facilitate the ivy take root without any problems. To close completely the garden can include a tree, for example, a tree of love. What do you think about the idea?
Large potted plants or flowers
Also with nature as the protagonist it is the ability to hide your terrace or smaller balcony by placing a large flower pots at a certain height and putting them large plants and flowers. It is more decorative you'll find to save the privacy of your outdoor space, since the variety of species that can plant can play with many possibilities in color and form. You look out in the direction that will be the area where you are placing to choose the species best suited to the weather conditions.
Metallic cloth
You can design a fence for your garden wire. It is cheaper than wood but not as decorative, but you can always add creepers, some vine or flowers to add a touch of joy and showiness.