Remember the spacious, bright, minimalist and modern scenes of Star Wars? The sci-fi films inspired a trend in decoration, which combines contemporary aesthetics with designer and futuristic dyes.
We could define decoration futuristic born following the success of these films.An aesthetic that is gaining more followers day and that we present in today's article of RealOrigin. Discover the keys to the futuristic decor.
Nuclear target
We do not need a time machine to discover the keys to this style. Just take a look at films like Star Wars, whose care scenarios inspire many firms and companies specializing in decoration and design.
In addition, given that we live in an increasingly technologically advanced society, no wonder that the decor also join these advances.
We will start with the basics of futuristic decor, the colors.Remember the space stations and ships science fiction films? These scenarios are usually decorated in a nuclear radiant white that brings light, spaciousness and purity of these environments.
Steel, glass and aluminum
White is starring in the futuristic decor.A shade that blends perfectly with the metallic surfaces. Steel, aluminum, glass and similar materials with bright flashes of silver are a must in our decor reminiscent of the future.
Minimalism
Aesthetically, triumphs minimalism with simple designs,clean lines and little in the decor. So bet on smooth finishes, sober and slightly ornate spaces we approach the future.
However, we can also incorporate small nuances of character using materials such as wood and leather. These touches of style will add a personal and welcoming decoration futuristic touch. Like the textiles in neutral tones, such as sophisticated deep pile carpets.
Design and innovation
In terms of design, as far as furniture is concerned, they surprised by the sinuous shapes and contrasts. It is, therefore, a design where the round shapes are allied with the rigidity of straight lines for some innovative pieces.
Truly amazing furniture designs we approach the latest technology as well as the modern fittings with LED lights and motion sensors. Gadgets, flown shelves, floating staircases, digital mixer, convertible pieces and even furniture touch screen. It is like being in the future!
Geometry
In this sense, we should not lose sight of the other stars of this decoration: the prints geometric. Whether on carpets, cushions, pictures or even furniture themselves, these forms cannot miss in the decoration of the future.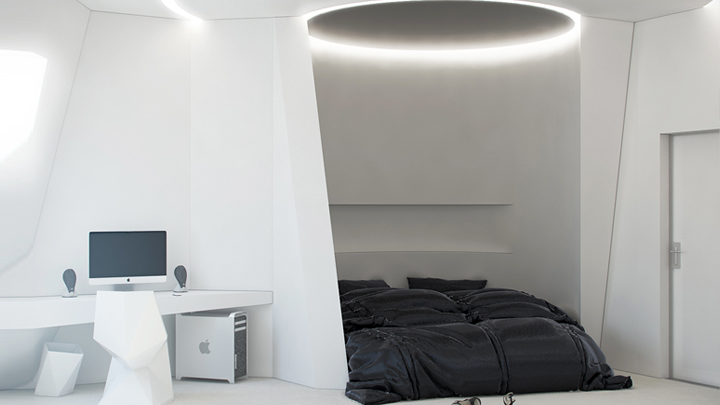 LED lights
Finally, do not forget another important element in decoration: light. Lighting plays a key role in any environment, but especially in the futuristic decor.
You may also like to read another article on RealOrigin: Decorative styles for 2016
Neon lights invite us to enjoy an incredible time travel without leaving home. In addition, of course, we must not forget the led lights are an interesting bet. In practice, these lights can be incorporated into the house with furniture and light fixtures, which will give a futuristic touch to our environments.
However, if you opt for neon lights, try to place them under furniture or behind a painting to create this futuristic atmosphere, but without falling into excess. However, as far as possible it is recommended to take advantage of the sunlight. So directs and distributes furniture to enjoy a naturally lit room.